With the NBA season starting up tonight I just wanted to put a few things down here on some of the story lines headed into this season…
Who the hell can beat Golden State?
The warriors enter this season locked and loaded with the same devastating roster they had last year (PLUS SWAGGY P). However, with a new look western conference and a somewhat improved eastern conference can anyone actually beat these guys?
Believeland…
First off, the best player in the world resides in Cleveland, Ohio for at least one more season. In potentially his last season playing for his hometown Cavaliers, Lebron is going to be on a mission to hoist the Larry O'brien trophy again for the second time in three years. Cleveland has made a few moves this offseason as well that we have to look into.
The most recent and probably predictable move was D-Wade rejoining his BFF Lebron in pursuit of their third ring together. These two have amazing chemistry and their high flying full court alley-ooping act is coming back to our TV screens, which will make for some must see entertainment.
The biggest move made by the Cavs came when they traded All-Star point guard Kyrie Irving for a draft pick Ante Zizic and two key pieces in Isaiah Thomas and Jae Crowder. Isaiah is a scoring machine with ice water in his veins. However, he has been rehabbing a hip injury and the timetable for his return in up in the air. As long as Isaiah comes back healthy and looking like Isaiah of last year, he should be a great weapon in Cleveland especially since he is playing for a new contract. What kind of gets lost in this trade is Jae Crowder. Last year Cleveland rather lost its defensive identity and if you want any shot at beating Golden State, you will not do it trying to outscore them in a bucket for bucket type series. Jae is a big body who can stretch the court because of his newly developed outside shooting. Last season Crowder saw career highs in 3-point percentage (39.8%) field goal percentage (46.3%) rebounds (5.8) and assists (2.2). Jae and Isaiah will both surely have chips on their shoulders and look to make Boston pay for letting them go.
Filling in for traded Kyrie and hobbled Isaiah is a former NBA MVP in Derrick Rose. Although he hasn't been the same D-rose we saw in his young career back in Chi-town who knows what he may do in this new system. Last year for the Knicks he had a pretty solid year averaging 18 points a game (his most since that prolific MVP season). If the Cavs and LeBron can get even a sliver of what we saw in MVP Rose and have Isaiah come back around playoff time they will be a force to be reckoned with. (Oh, and we don't have to watch Deron Williams run around with a piano on his back anymore.)
Last and probably most underrated move I want to talk about is the acquisition of Jeff Green. I may sound like an old and reaching Celtic die-hard BUT. Jeff Green is a solid defender with size and is a gritty veteran who has seen it all. I can see him and Jae Crowder making big plays on defense and becoming the enforcers on this team.
Verdict…
Lebron is chasing MJ and Cleveland is going to do anything they can to try and keep Lebron in town by showing him they are committed to winning and giving lebron the best chances to catch MJ's 6 rings (which still may not keep him). Either way Cleveland is going to put their best foot forward. I would not be surprised to see a deadline move to acquire another piece down low in the post but either way Cleveland has experience, defense, and scoring all over the court and will be a ton of fun to watch this season as they obliterate the depleted eastern conference (minus Washington and Boston)
Whats Cooking in Houston...
This should be interesting…
In a blockbuster trade this summer the Rockets sent over (deep breath) Patrick Beverley, Sam Dekker, Montrezl Harrell, Darrun Hilliard, DeAndre Liggins, Lou Williams, Kyle Wiltjer, a future first round pick, AND cash for 9x All Star Chris Paul. Chris Paul is still looking to punch his ticket to his first Conference finals trip after falling short every year since entering the league in 2005. Paul had a good nucleus of talent in LA but amid multiple (reported) fragmented relationships with head coach Doc Rivers and other teammates, Chris and the franchise saw it best to move on.
Chris Paul will join superstar and MVP runner up James Harden who just so happens to be coming off a career high in assists (11.2) last season. Question is how is this going to work? Here are two superstars that NEED to have the rock in their hands and all of a sudden will have to figure out how they can coexist. Since leaving the shadow cast by KD and Russell Westbrook back in OKC a few years back he has been the guy in Houston. This will be his first time having a wingman of this skill and demand for the ball
Verdict…
As it stands right now, I just can't see Houston stacking up with Golden State or even some of the other big ballers in the west. I think the loss of defensive specialist Patrick Beverly is a significant loss and aside from Harden and CP3 the roster is not that impressive. Youngster Clint Capela should have a solid year as he is eyeing a new contract. Along with Trevor Ariza, Eric Gordon and Ryan Anderson contributing I just do not see enough star power here to contend for a trophy. However, we should wait and see how the CP3 Harden relationship pans out because it has the opportunity to be special!
Big 3 in OKC…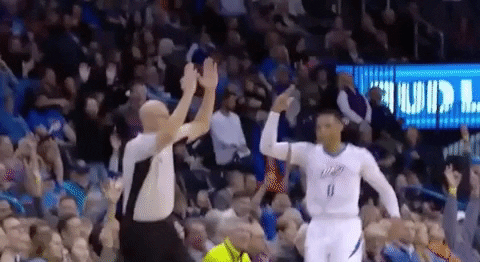 This is probably what I am most excited about in the Western conference this season.
Russel Westbrook coming off a MVP season pairs up with top 15 player and all around stud Paul George (who also is looking to get paid) and one of the best pure scorers in the history of the NBA Carmelo Anthony. Russel is a triple double machine but if this is going to work, the ball is going to have to move around.
Russ just signed a 5-year $205 million contract extension solidifying him as the corner piece for OKC going forward. However, Paul George is a free agent this summer and Russ would more than likely want his talents to stay with him. If Russ can show PG can win a ring in OKC that may just convince him to stick around and pass on heading to LA or elsewhere.
Carmelo Anthony comes into OKC after leaving a dumpster fire in New York (where he was underappreciated and wrongly vilified) Carmelo signed with New York and took them to the playoffs 3 straight years (2011-2013) Regardless of what you have to say about his defensive output, he is a 10 x all-star and former NBA scoring champion.
The burning question is the same one the rockets have. How will you get the ball around? Obviously Russ is your primary ball handler. He is a scoring wizard and an underappreciated passer so he definitely has the ability to get the ball to the open man. When it comes down to the wire and someone has to make a shot I am putting the ball in Melo's hand. PG and Russ may see that differently, but we will see how all that plays out in the coming months.
Verdict…
OKC has an intriguing stating lineup that bolsters 3 all-stars who can score points by the boatload with a couple solid role players in Andre Roberson (who needs to start making free throws its embarrassing), and Steven Adams.
My only concern is depth after the starting five it gets pretty thin which can be a disaster when playing some of the deeper teams in the west let alone the warriors. With that being said, I like OKC on paper they can score with any team in the NBA and have players that pride themselves in defensive play. As long as they can work out who gets the ball and when while developing some chemistry I think OKC will be a force to be reckoned with.
New Look Celtics
They are young, talented and still full of draft picks.
First off, Boston checked off their biggest off-season goal in landing free agent Gordon Hayward. Boston has needed a star for quite some time and they may have found their man. Gordon Hayward played under Brad Stevens back at Butler and turned into an all-star in his final season in Utah. He now joins the stockpile of forwards Boston has accumulated in Jaylen Brown, Jayson Tatum and Marcus Morris.
In addition, this offseason kind of unexpectedly Boston acquired Kyrie Irving from Cleveland for Isaiah Thomas, Jae Crowder, Ante Zizic, and a draft pick. Kyrie is an elite level point guard no question but all these new pieces will take time to gel. Isaiah was the heart and soul of this team and they also lost another veteran in Avery Bradley when they shipped him to Detroit to make the Hayward trade possible. The only remaining leader from last year's team is Al Horoford who saw a career high in assists last year. Aside from Al, this extremely young (yet talented) roster has added two star players and will need some time to gel and hit their stride.
Verdict…
As a Celtic fan I am rooting for this roster to win it all every year but I realize it may take time for the chemistry to fully develop. We have two promising youngsters in Jayson Tautm and Jaylen Brown along with Marcus Smart coming off the bench while looking to earn a new hefty contract. I think the Celtics definitely got better this offseason but are set for years to come especially with the stockpile of draft picks Danny Ainge has accumulated over the years. This team is built to compete now and for many, many years into the future.
San Antonio Spurs
You can't leave Pop's Spurs out of this conversation.
 The Spurs are a threat to win the Finals each and every year it seems no matter what. They have arguably the best coach in the NBA, a top 5 player in Kawhi Leonard and great pieces surrounding them. Manu Ginobili decided to come back for his 15th season with the spurs. He is a witty veteran who can give you great production in spurts. This team's success largely is going to be determined by what version of Lamarcus Aldridge decides to show up.
Aldridge was a huge pickup two seasons ago as Tim Duncan made his exit they needed to bolster their front-court and he seemed to be the man for the job. All was working well until he was a shell of himself in the playoffs last season against the warriors. When Kawhi went down the spurs stood no chance. Lamarcus had two games of only 8 points in each game followed by a 4-11 shooting performance in the game 4 loss which completed the sweep.
Verdict…
If the spurs can have the dominant Lamarcus Aldridge they saw in the playoff series against the Rockets paired up with Kawhi and company they will be a dangerous group come playoff time. Pop will have his roster
well rested and ready for the playoff run. As long as they are clicking on all cylinders, they will be a tough task for any team.
The Year of Kemba Walker.
I have been a fan of Kemba Walker's since I was watching him ball out in the Big East tournament back in Madison Square Garden. He has been somewhat lost in the troubled Charlotte Hornets/Bobcats franchise where he has had deplorable coaching and a plethora of no name teammates. Despite all of that, this past season Kemba earned his first all-star nod while notching career highs in field goal percentage (44.3), 3-point percentage (39.9%) and points per game (23.2). In addition, this offseason the hornets brought in Dwight Howard.
Dwight has been a bit of a disappointment since leaving Orlando (to put it lightly). Nevertheless, he is coming off a career year in field goal percentage (63.3%) and will not have the spotlight on him as much this year. I hope that we can see a career revival so he can give Kemba some help as he nears his 30's and is starting to really hit his stride.
Isaiah Thomas
With the Celtics taking on the Cavs primetime on TNT tonight there is one thing I want to discuss.
For the last 2 seasons, Isaiah Thomas has been one of the most beloved sports stars in Boston. He joined the Celtics back in 2015 through a trade with the Suns for Marcus Thornton and a 2016 first-round pick. Ever since then Isaiah captured the hearts of NBA fans around the world.
I have been watching the Celtics play since I was a kid through the Paul Pierce and Antoine Walker years to the Big 3, all the way until now. Being able to see Isaiah's growth as a player and a person has been one of my favorite memories in my time as a Celtic fan. He was the final selection of the 2011 NBA draft being labeled as being too small, to slow, or just plain out not good enough. Today Isaiah is an all-star and regarded as one of the NBA's elite point guards.  
In his final season in Boston saw career highs in field goal percentage (46.3%) and points per game (28.9) during the first round of the playoffs against the bulls Isaiah learned his sister passed away in a tragic car accident. After winning that series 4 games to 2, Isaiah flew home to attend his sister's funeral and came back for the start of the eastern conference semifinals against the elite point guard John Wall and the Wizards. Isaiah dropped 33 point and nine assists in game one followed by a 53 point performance in game 2. Eventually Boston went on to win the series and take on Cleveland where after game 2 he was ruled out with a hip injury that was bothering him for a large portion of the season but was never reported. This was the last we would see of Isaiah Thomas as a Celtic.
Isaiah has given us Celtic fans so many unforgettable memories in the short span he was here and I wish him nothing but the best in Cleveland. This is just another reminder of how sports truly is a business and just goes to show how any player is expendable. Thank you for 3 unforgettable years Isaiah, now go get that brinks truck!
My picks for NBA awards
Regular season MVP: Lebron James
Rookie of the Year: Dennis Smith Jr.
Sixth Man of the Year: Marcus Smart
Coach of the Year: Billy Donovan
Most Improved Player: Jaylen Brown
Champion: Warriors
Finals MVP: Steph Curry
Other Question marks???
Can Joel Embiid stay healthy?
Could the Pelicans send Davis or Cousins off to another contender to rebuild?
What will we see out of Lonzo (and Lavar) Ball.
Kyle Kuzma?
Who is the star that bursts onto the scene this season?
Please reload